Road Marking Inserts
Road marking inserts (RMI) are designed to mark the boundaries of a pedestrian crossing and warn drivers, especially at night, about the approach to the crosswalk and about the possible presence of a pedestrian at the crossing.
The RMIs are installed in the road surface in places where a pedestrian crossing the street is particularly exposed to the danger of collision with moving cars. In order to signal drivers that they are at a pedestrian crossing, the RMIs emit light in the direction of approaching cars.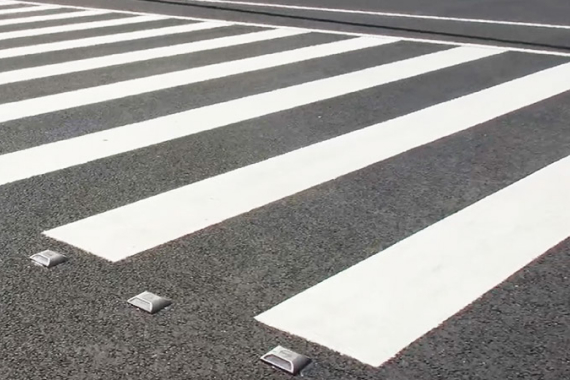 The Road Marking Inserts can be a part of the road active visual information system and can be used together with LED panels, motion sensors, solar batteries and other elements of the road traffic safety system. The use of a single RMI is not effective. A positive result is achieved with the help of a certain number of RMIs, which are used as a marking line with a distance between adjacent RMIs of no more than 800–1000 mm.
Glass Road Marking Insert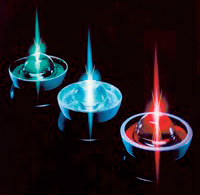 Glass RMI of 360°/180° type is a novelty in the field of glass and optics technology. They are made of tempered optical glass in accordance with the EN 1463 European standard. Glass road marking inserts are installed in the road surface with the help of special equipment, which practically makes it impossible to damage them by vehicles. Type 360°/180° of RMI depends on the angle at which the insert reflects the reflector light. The advantages of glass RMIs are: the ability to withstand heavy loads and shocks, not to be damaged, unlike plastic inserts, and self-cleaning during rain. They are used for marking the boundaries of traffic lanes in tunnels, on bridges, traffic junctions, separating traffic lanes for route transport from public ones, marking the edge of the carriageway, pedestrian crossings, separating traffic flows.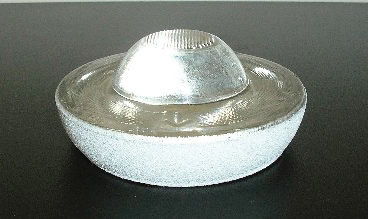 Technical Specifications:
Weight: 480 g;
Diameter: 102 mm; height: 45 mm;
Withstands a load of more than 35 tons;
Withstands an impact with a force of more than 25 J;
Light-reflection coefficient
R = 390 cd/lux 0.3°